Fedora - Liderança
O 'Projeto Fedora' é liderado por colaboradores de toda a comunidade. Às vezes, diferentes áreas funcionais do Fedora evoluem, criam ou desmantelam a sua própria liderança formal (ou informal!) ao longo do tempo. Como o Fedora é um projeto de código aberto, nós incentivamos os novos colaboradores a identificarem problemas, encontrarem soluções e a colaborarem com outros membros para alcançar resultados. A nossa comunidade reconhece e capacita os líderes capazes entre nossos pares.
The Fedora Project aims to have a thin layer of governance that enables decision making without excessive drag.
The following are current examples of leadership groups in Fedora.
Fedora - Conselho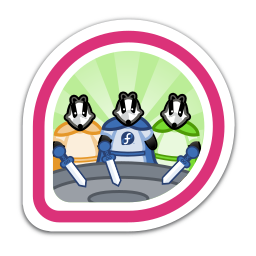 The Fedora Council is the topmost governance and leadership body in Fedora, and is made up of appointed and elected members from across the Fedora community. Details about the Council such as size, constitution, and succession planning are found in the Fedora Council Charter.
Comité Diretor de Engenharia do Fedora
The Fedora Engineering Steering Committee (commonly known as "FESCo") is a community-elected body empowered by the Council to manage the technical features of the Fedora distribution and specific implementations of policy in the Fedora Project. You can find further information about FESCo, its members, and its policies on the FESCo section.
Comité de Mindshare do Fedora
The Mindshare Committee represents leadership for user and contributor community growth and support.
Outros grupos
The list above is not a complete list of every group of empowered community members. Other groups steer specific parts of Fedora as well, empowered and supported by the relevant teams. The list above shows the three leadership groups that most often work on issues of policy or practice affecting large portions of the Fedora Project.
Community members are always encouraged to get involved in leading Fedora in ways that are important to them, while minimizing overhead and governance project-wide.
Grupos de Trabalho
Fedora Editions — currently, Atomic, Server, and Workstation, — and sometimes Fedora Project Objectives are lead by Working Groups. These groups are either independent subcommittees of FESCo, Mindshare, or the Council. They have formal membership and decision-making processes, but generally the membership is intended to include active contributors and the decision-making power reflects that. A seat on the Working Group itself is not at all required to participate meaningfully in the work on Editions or Objectives.
Subprojetos
Subprojects are long-standing major areas of effort under the overall Fedora umbrella. Each subproject has its own governance.
Grupos de Interesse Especial
Special Interest Groups, or "SIGs", are much less formal. The process for creating a SIG has no red tape. Different SIGs have different structures; some use formalized voting and others don't. Some SIGs may eventually become subprojects; for others, the lightweight framework is perfect.