Fedora Join Special Interest Group
The Fedora Join Special Interest Group (SIG) aims to set up and maintain channels that let prospective contributors engage with the community. The idea here is to enable people looking to join the Fedora community to converse with existing members, make friends, find mentors, and get a feeling of what and how the community does in general, with a view to reducing the learning curve that joining a new community entails---and make it more enjoyable!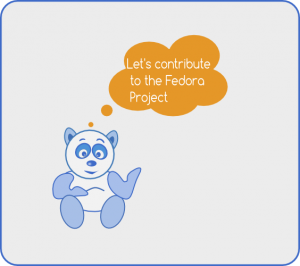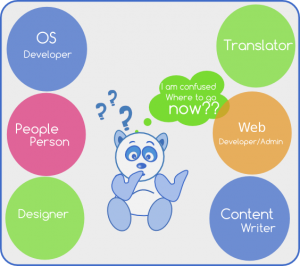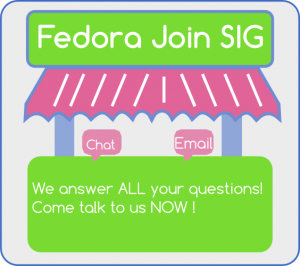 The Fedora Join (SIG) is involved in:
Welcome to the Fedora community!
We are people from all over the world that come together to develop the various tools, software, and material to promote Free and Open Source Software. Fedora is a massive organisation, and we carry out different roles to keep the community ticking.
All the infrastructure that we use is linked to a Fedora Account. You can get one here.
Get started!
We have a Welcome to Fedora process for new comers. If you can please get in touch with us on any of our communication channels, we'll get you started. NOTE: Please be patient as this could take a day or two for one of us to get back with you for onboarding
Mission
Different teams already have different, mostly well documented, SOPs (Standard Operating Procedures) for joining their respective SIG. The infrastructure team is a great example of this. However, we often meet people who are unsure of how their skills fit into the community. We want to provide these people with a channel where they can speak to existing members of the community, learn about what they do and use this information to find the right team to get started with. We help new members form relationships with other members; we point them to the right resources - wiki or otherwise; and we expect that this should greatly improve the joining experience.
Goals
Set up a communication channel between the existing contributors and prospective contributors. Speaking to current team members is always encouraging. We could even set up a system to send "easyfix" tasks to this mailing list giving folks a chance to work on them and learn in the process.

Guide/aid prospective contributors to turn into solid contributors. Rather than just pointing them to join.fedoraproject.org, talk to them, see what issues they face, help them decide where they want to get started.

To form better mentor-mentee relationships. Here, we mean "mentor" in the real sense of the word.

Give prospective contributors a communication channel to talk to each other. This is very important. Take the Google Summer of Code mailing list for instance. It is set up specifically so that the candidates can talk to each other. Since they're all in the same boat, they feel more comfortable discussing certain issues amongst themselves. They'll also be aware of what different people are up to which will give them a better idea of what they can do. It would be great if they could discuss and share the cool stuff they've begun to do. It would surely be encouraging.
Basically, look for potential, not polish. We can help them gain the polish that established contributors have.
Communication
We prefer Matrix/Element for synchronous communication. Element provides a web-based application that you can use in your web browser. It also provides desktop and mobile phone applications if you prefer.
The Fedora community has its own Matrix/Element homeserver that one can login to using their Fedora Account. However, you can also access the channel using the default Matrix/Element homeserver where a Fedora Account is not required.
Additionally, we also use the mailing list for asynchronous discussion:
A few other chat tools are also bridged to our Matrix channel:
If you are using IRC for the first time, please take a look at Riot, a free and open source client that connects to various IRC networks. Riot also keeps you connected to IRC even when you're not connected to the Internet.
Membership
In general, members of the Fedora-Join SIG should be contributors experienced enough to be able to help newbies. So, as a guideline (not a strict rule), we suggest that:
a SIG member should be part of two other groups (CLA+2)

active for at least the previous release cycle

must be subscribed to the mailing list
While we do not usually need to clean up the membership group, we will periodically do so to remove inactive members. This will be done by gathering data from datagrepper on activity.
Please file a ticket on our Pagure instance to apply for membership. The current membership can be viewed in FAS here.
Temporary membership for new community members
We also provide temporary membership to newbies just getting started in the Fedora community. This is so that they have access to Fedora infrastructure that requires a CLA+1 (membership of at least one SIG), such as the wiki. This is part of the workflow for newcomers. Please get in touch with us, and we can discuss about that.
Tasking
We use Pagure to manage tasks we are working on and the issues we need help with. Submit a ticket if you need help from Fedora Join or help us with existing tickets by visiting our repository.
Meetings
Occassionally, the Fedora Join team hosts meetings.
Go there and sign in with your FAS Account.
The process is very simple:
Agenda for Next Meeting
Roll call

New member introductions

Community announcements

Tasks from past week

New items

Whatever is needed at that moment

Open Floor
Hosting a meeting
Follow our agenda (see above) or use this guide for tips on running an effective meeting.

Meeting chair responsibilities:

Prior to meeting, Send out reminder

After meeting

Send out logs

Prepare next meeting agenda
Meeting minutes are logged at Meetbot.
Ways to get involved
Blogging about Fedora

Mentor

Help with issues

Share ideas to make this SIG, and Fedora, better